7. Manufacturing
Flourish tracks data associated with extraction processes allowing visibility into machine function, efficiency (inputs vs. outputs), environmental factors, consumable use, and more.
In general, input packages and consumables are selected from existing inventory, the run is started (and incrementally saved), then post-run outputs are recorded and the resulting material is automatically added to inventory.
HOW IT WORKS:
If you already have a Manufacturing license with Flourish, you can easily activate this new module by going to Manage Settings --> User Roles --> Activate Manufacturing Module
After it has been activated, there will be a new Manufacturing menu option inside of the "Manage Settings" back-end. Here you will want to add all machines that will be used for extraction or processing runs.
Once at least one machine has been added a new Run can be initiated.
WIthin this section is a quick reference guide for completing a Run in the new Manufacturing module.
Start a New Manufacturing Run
A Manufacturing Run is comprised of input materials and consumables (optional) from your existing Flourish Inventory. You will be guided through adding these materials and recording the process through a full cycle. 
Select the Manufacturing Module.
Select the +Create New Run button.
Select your Machine and Run Type from the dropdowns.
Add your Inputs and Non-Cannabis Consumables.

Inputs will be items such as "Bulk Flower", "Crude Oil", or whatever other raw materials you wish to manufacture into a new item in this process.
Select +Add Package and choose an available item from your existing Flourish inventory.

Add any additional Non-Cannabis Consumables in the lower section by clicking +Add Item.

These items will simply be decremented from your inventory.

Select the green Start Run button.
NOTE: Runs can be saved, completed, or cancelled throughout the process.
Next, start your Run and choose Save if you wish to start a new run while this one is running or to simply come back to data entry at a later time.
Choose whether you want to Automatically log the remaining weight as waste?
If toggled on, this setting will automatically calculate the waste from this run based on the amount of Output entered in the next step.
When you Run is complete, enter the specific details of the run such as:

Processing Duration (mins)
Temperature (˚F)
Pressure (psi)

THEN, click the +Add Output button to record the new material from this Run.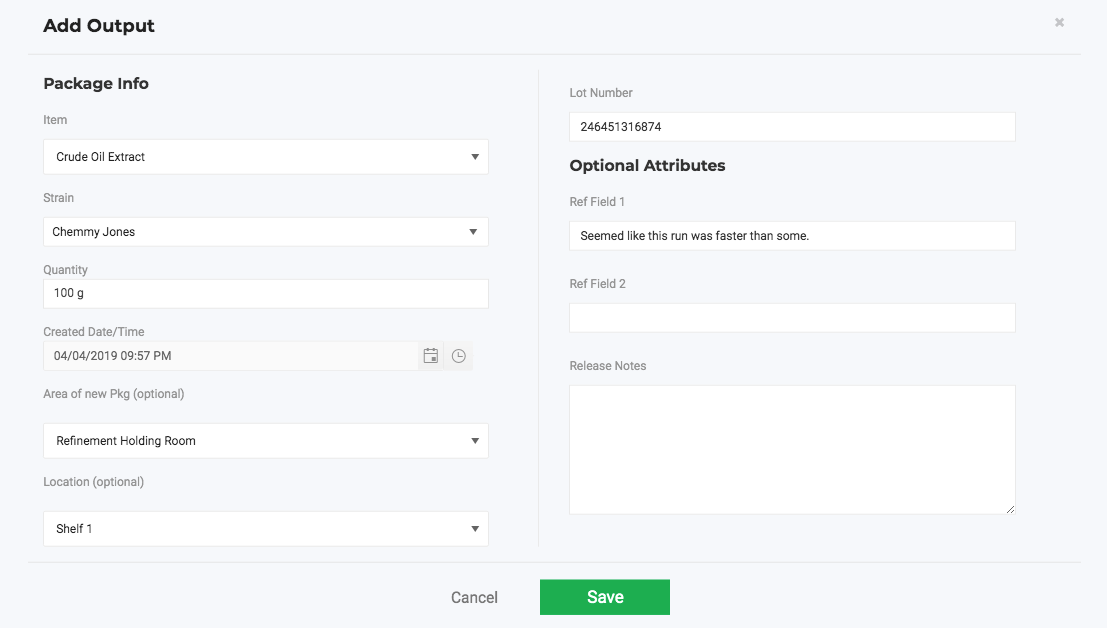 Choose a new Item that has resulted from this Run. Such as "Crude Oil Extract", "Distillate", or any other Item configured in your Item Master and available for selection in the dropdown. 
Choose the Strain, typically the same except in certain homogenized manufacturing Run instances.
Enter a Quantity of new material that this Run has produced.
Confirm the Created Date/Time.
Choose an appropriate Area of new Pkg (optional) and a Location within this area for storage of this new material. 
Enter a Lot Number (if required).
Finally, enter any Optional Attributes for this run and click Save.
Note the new Total Run Waste quantity in the main Run screen (Input quantity - Output quantity = Waste Amt.)
You can now add Non-Cannabis Consumables to this run for items such as storage bottles and the like.
When all data has been entered, you can now Save or Complete Run. 

If Saved, you can come back to this run later and adjust quantities, approve other's work, etc.
If Complete Run, the data entered becomes final and is logged accordingly into your inventory.

Once this has been done, you can no longer modify the Run.
You can, however, adjust inventory for the Output item by simply going to that item in the Inventory module and selecting Adjust Qty.

You will, of course, be required to select an appropriate reason for the adjustment.
---
---