Inventory: Bulk Actions

Certain inventory actions within Flourish can be performed on individual packages or by selecting multiple packages. These include:
Bulk Actions can be enabled or disabled for each facility in your Flourish instance.
Tutorial: Enabling/Disabling Bulk Actions on Inventory
Navigate to Manage Settings.
Click Configuration.
Choose the desired facility

.
Under the Inventory section, toggle the switch on to disable Bulk Actions.
Note: When enabled, combining inventory can optionally be further limited to only
packages with the same item name
packages in the same lot/batch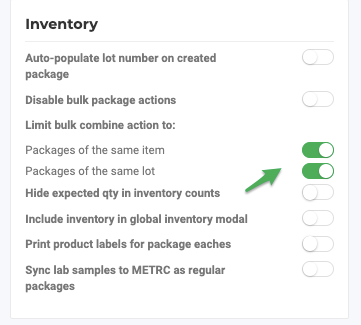 Click Update to save your changes.

---
---