Cannot access my Analytics module
If you get an error message stating 401: Not Authorized while trying to view reports or Dashboards in the Analytics module, there is an easy fix for that!
Please add app.flourishsfotware.com as a trusted site (including third-party cookies) in the Chrome cookie settings.
How to add trusted sites in Google Chrome:
Click the 3 vertical dots icon in your chrome web-browser's upper right corner.
Click on Settings, scroll to the "Privacy and security," and click on "Cookies and other site data."
Scroll down to "Sites that can always use cookies" and click "Add."
Under "Add a site," type in, or copy and paste, app.flourishsfotware.com.
Make sure to click the checkbox for "Including third-party cookies on this site" and then click "Add" (see the picture below).
Lastly, go back to Flourish and refresh your browser window.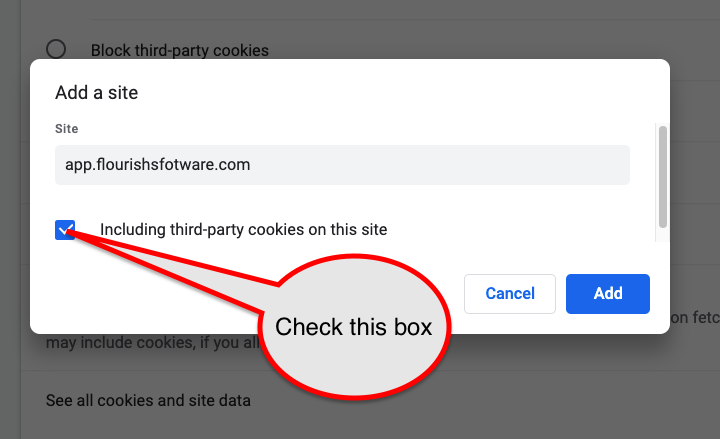 That's it!
Please let support@flourishsoftware.com know if you continue to run into any additional issues.
---
---