Retail Facility Configuration
Set the behavior of your retail system according to the configuration below.
Click Settings.
Select .
Select the Retail Facility you want to configure.
Locate Retail.
Toggle 'On' or 'Off' the toggles below.
Scroll up and click .
General Settings
Configuration Option

What it means

Allow create and edit pickups at point of sale

You can create pickup orders from the Intake screen in the POS when this setting is on.

Block purchase due to expired med card

For a Retail facility designated as Is Medical, you may elect to block the completion of a purchase by a customer whose medical ID has expired.

When the block is enabled, the system displays an error message when a user attempts to complete or record payment for a purchase for any such customer:

Enable custom order line dosage

For facilities where compliance requires entering a dosage for each item/order line, toggling on this setting enables you to enter dosages in the POS and web app modal where you Print Customer Labels.

Enable fulfillment at point of sale

Turn this on to be able to allocate cannabis inventory to a purchase in the POS shopping cart.

Enable round up to next dollar donations

Turning this option on will introduce a toggle in the POS shopping cart and payment screens to allow rounding the purchase total up to the nearest dollar, allowing your facility to reduce the need to keep coins and support a worthwhile cause at the same time.

Hide prepared by user last initial on receipt

By default, the first name and last initial of the budtender that checks a customer out is printed on retail sales receipts. If you would prefer to only print the first name, use this setting.

Only show items with available quantity.

When this setting is on, the item list in the POS shopping cart, as well as the item dropdown in the web app purchase details screen, will filter out items that are not currently available in the facility.

Require cancellation reason code

Turning this on requires users to select a reason when cancelling a retail order. Learn more here.

Require fulfilling pharmacist

If it is required that a fulfilling pharmacist be associated with every retail cannabis purchase, you can turn this config on, which allows you to select the pharmacist (and add new ones) for the order inside the Print Customer Labels modal.
Purchase Receipt Setting
Set the data you want to include or exclude on the Purchase Receipt: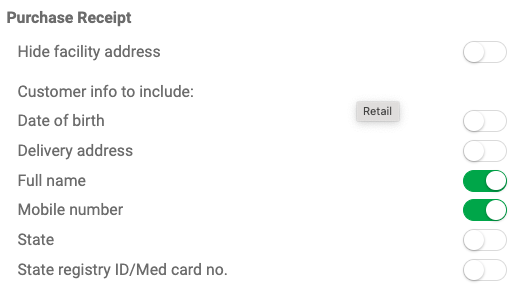 ---
---