2. Analytics
Analytics
Analytics (powered by Looker) gives you robust visibility and reporting throughout. Through these standard delivered reports, you can find powerful reporting tools around compliance, inventory, module-specific performance (i.e. cultivation and manufacturing), and sales.
For custom reports, please see Dashboards Overview.
If for some reason you don't see an Analytics tab inside of your Flourish instance please contact your local rep or Flourish Support.
Grant users access
...to new Dashboards and Reports through your User Roles settings.
From your Settings, navigate to User Roles. You can specify which User Roles are allowed to view or update Dashboards and Reports within the new Analytics section.

Once Analytics are enabled, you will see a new tab on your left side bar navigation.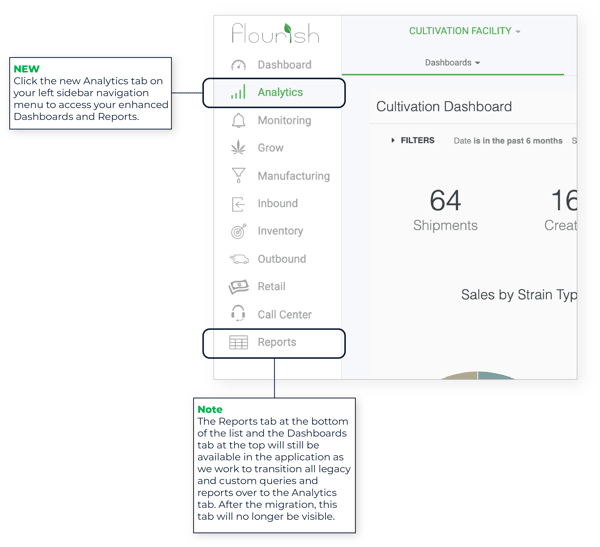 A few Flourish clients already have access to the Analytics tab as they helped us do the initial testing and QA. Thank you to those who helped us enhance our analytics and reporting features! It's now time to turn this on for everyone and expand our offering. 
The Reports tab at the bottom of the list and the Dashboards tab at the top will still be available in the application as we work to transition all legacy and custom queries and reports over to the Analytics tab.
Within the Analytics tab
...are your Dashboards and Reports.
Each section (Dashboards and Reports) will have a custom list of categories depending on the customer and their license types.
Dashboards will be based on your License type(s) and can be customized based on your specific data points. We'll discuss your dashboards in depth below.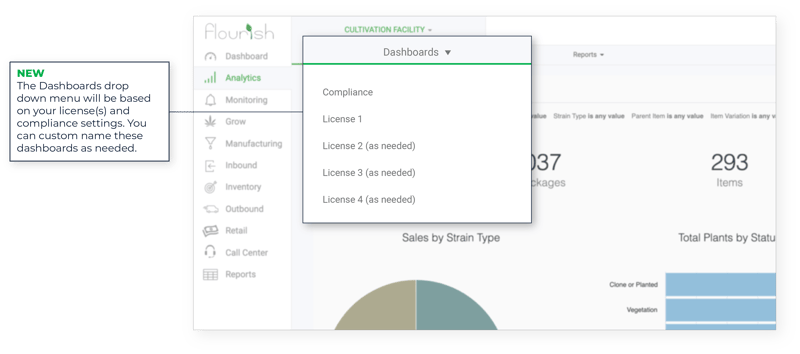 Dashboards
...All of your operational data is displayed by custom attributes and facility settings. 
Your new Dashboards will provide a holistic view of specific operational data depending on license type. For example, cultivators can set up their dashboards to highlight:
Sales by Strain
Total Plants by Status
Orders by Status
Total on-hand plants based on grow phase
Average Harvest Yields by Strain
...and so much more.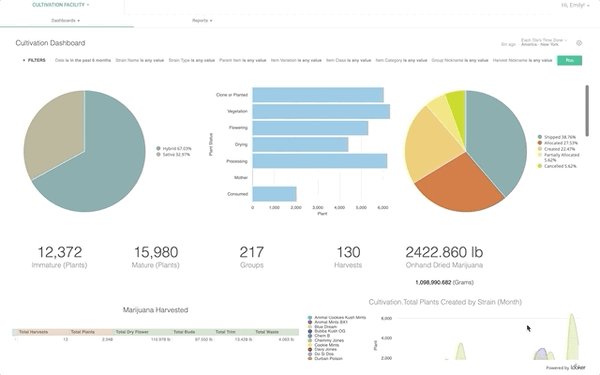 You can further filter your dashboards using the the options listed at the top of your Dashboard screen.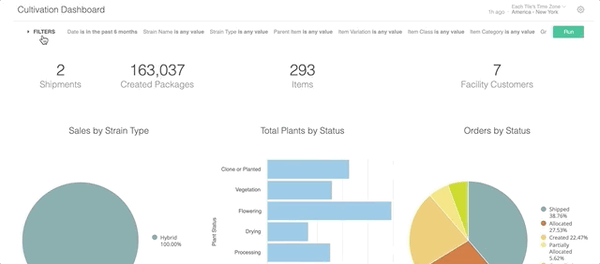 Filters let you organize data by:
Date
Strain Name
Strain Type
Parent Item
Item Variation
Item Class
Item Category
Group Nickname
Harvest Nickname
And within each of these filters, you can narrow or expand your filter searches by keyword attributes or user attributes.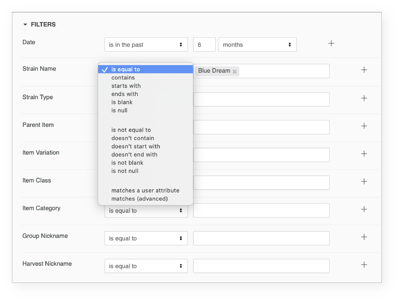 Within each module of a Dashboard, you can set custom alerts notifying you when stock is low, sales are made, etc. 

Hovering your mouse over certain data points will give you access to more in depth records. For example, 

Sample data points
...you can collect on your new dashboards:
Compliance:
Package Adjustments
Outgoing Transfers
Incoming Transfers
Expiring Lab Results
Expiring Customer Licenses
Cultivation:
Sales by Strain Type
Total Plants by Status
Orders by Status
Total on-hand plants based on grow phase
Average Harvest Yields by Strain
Sales, Inventory and Distribution:
Sales Details by Package
Sales Details
Total Sales by Customer
Total Sales by Brand
Total Sales by Category
Reports
...You will have access to a small collection of reports based on specific license and license data points.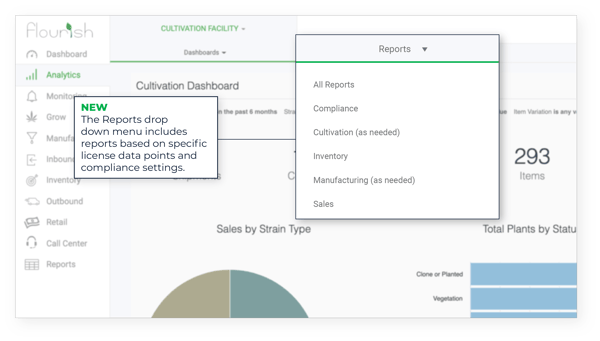 Reports are updated in real time and can be exported into various formats with custom file names and export settings.
A set of standard reports are available in the Analytics Reports module. The reports available are tied to the Facility's license.
Standard Reporting Elements
Use filters to filter the report selected. The filter options displayed depend on the report.
Click "Run" to generate report output
Select your timezone to show data localized to where you are located. The timezone is defaulted based on the facility's location.
Click the gear symbol to see export options to download the data as a PDF or CSV.
Click the gear symbol to send the report to a recipient.
Click the gear symbol to schedule the report


Download, Send and Schedule Dashboard Data 
When viewing a report or dashboard, hover the top right corner of the screen, near the time zone entry and a Settings icon will appear. After clicking the Settings icon you can choose to Download, Send or Schedule a report or dashboard.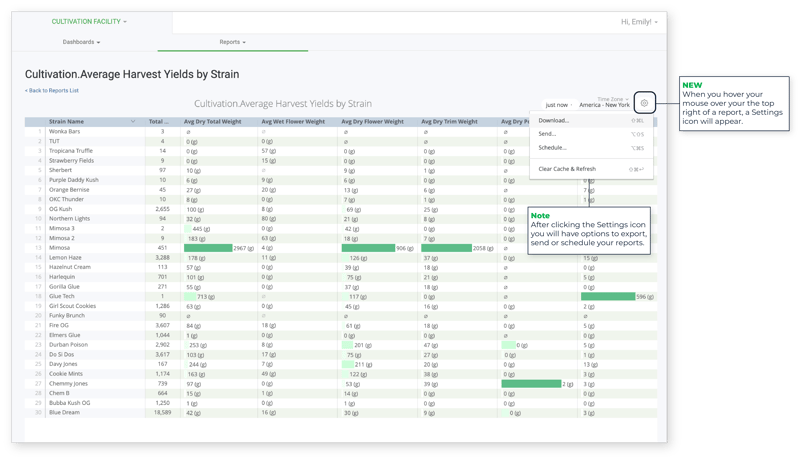 Download Reports
You can download your reports in various file formats including Excel, CSV or PNG, custom name the file and set additional download and format settings.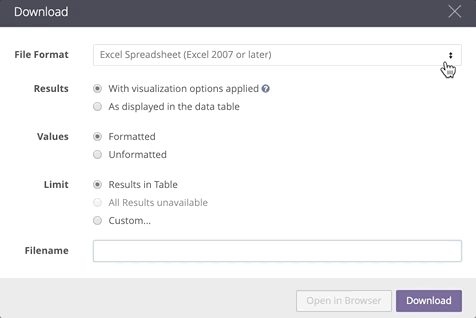 Download Dashboards 
You can download your visual dashboards as PDFs or CSVs.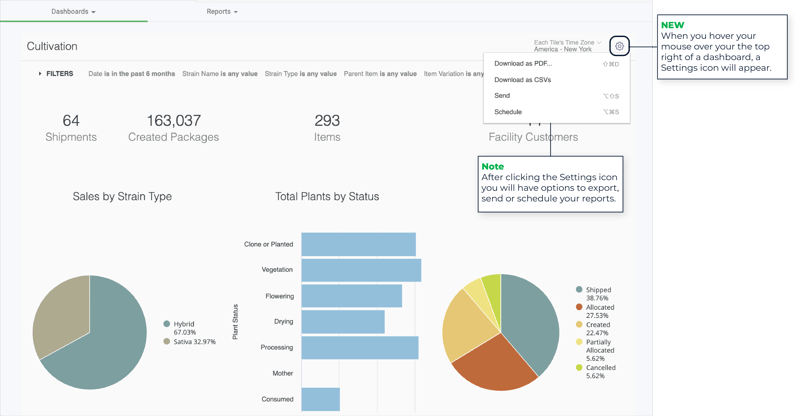 Send and Schedule Reports and Dashboards
Send a copy of your report to a colleague. You can also schedule a recurring send of the reports, as they are updated in real time.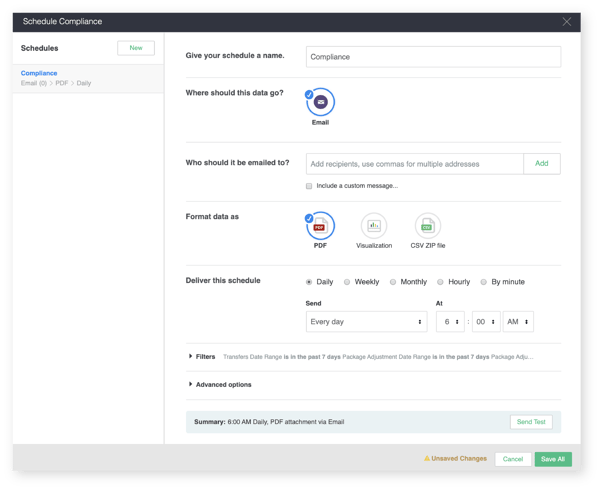 We plan to further enhance this list of available reports and new reports will be added automatically to each facility based on geographical and license-specific criteria.
---
---