METRC - Discontinue package in METRC and Re-sync to Flourish
Sometimes a package is created that does not actually exist or an incorrect item name was selected. When this occurs it is possible to discontinue the package in METRC and then re-sync back to Flourish. This must be done within 24 hours of creation and before there are any sales, transfers, or adjustments recorded against the package. Discontinuing the package will make the new tag available again and will send the quantity of the package back into the originating package or harvest.
How to Discontinue package in METRC and Re-sync to Flourish
Follow the steps in this METRC help article on Discontinuing a Package
Once the package is discontinued in METRC, in Flourish, click the Sync METRC Packages button in the All Packages table

You're all set!
Tip: Use the Action/See History tool in Flourish to track down what tags were used and would need to be discontinued.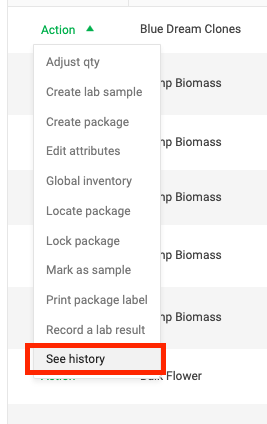 Use the Ancestry or Descendants to see where a package came from or what has been created from it. This can be invaluable when identifying cases of mistagging a package with the wrong item name.

---
---