Creating and Managing Users
Flourish uses an email address to identify a unique user. This login credential is unique across all companies and can only be used once.

If you are a user that needs access to multiple company accounts, we suggest using an email alias such as username_companyame@yourdomain.com.

System admin users are added by the Flourish team at account creation. As a system admin you can follow these steps to create new users.
Web Users are application users (Web Application)
Mobile Application Users are mobile scanner users (Mobile Application)
Viewing All Users
On the Users screen you can view enabled and disabled users. You can filter by facility. If you have permissions, you can create a new user.
Add New User
Create a new user by navigating to Manage Settings > Users, and clicking Create New User.
If your company is integrated with METRC or a state track and trace system, you will first be asked to enter the user's API key. If not, toggle "This user does not have a state registry API key."

Email = Email to log in with. Required. We recommend a corporate email.
First Name: Required
Last Name: Required
Employee ID: Optional
Cell Phone: Optional
Job Title: Optional
Location: Optional
Select Facility Permissions: Required Click on the User Role(s) for the Facility(ies) you want grant permissions to.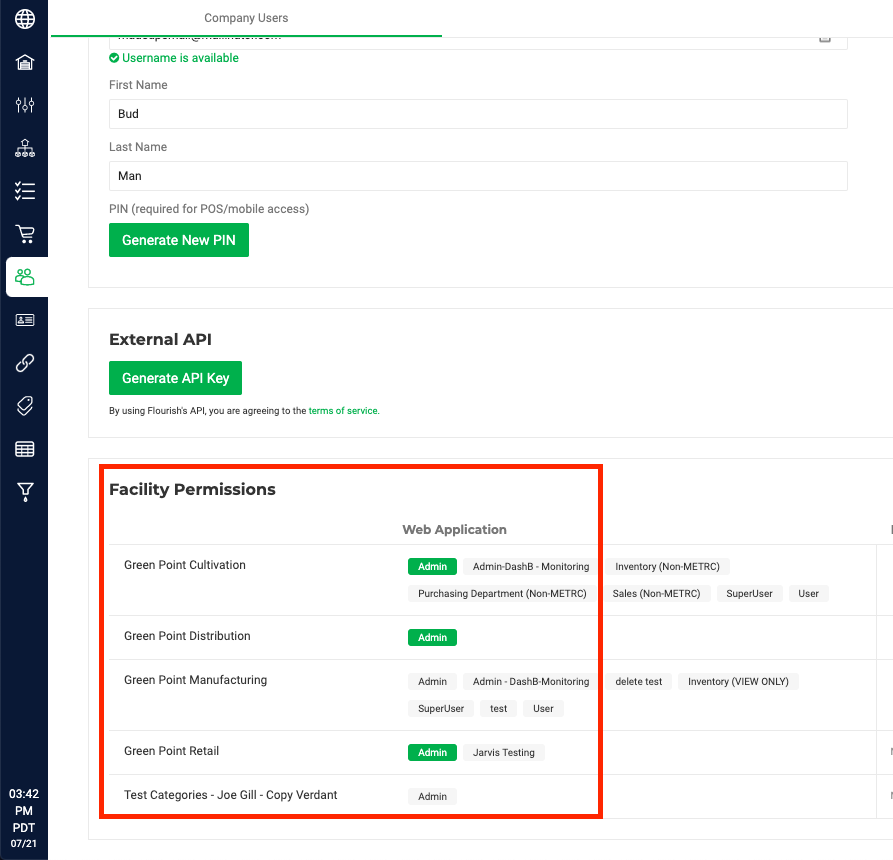 Actions on a User
Delete User: Deletes the user from Flourish
Disable User: Disables the user from logging into Flourish indefinitely
Edit User: Edits the user profile to update any attribute or permission for the user
View User: Views the user profile
Facility Permissions
Assign the appropriate User Role(s) for the user.
My Profile
Access your profile by clicking on the menu option at the top right of the screen and choosing My Profile or View User within the user list as shown above. Here you can see and edit your profile.
Within this screen, you can change the following:
Your first name, last name, and phone number
Your Default Facility
Your default Home Page to land on when you log in
Note: Ensure you have proper permissions to access this page.
Your Password
---
---